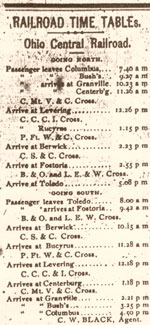 It is a short walk from most parts of the village to what is now popularly known as the "Bike Path."
The bike path, built in an old railway right of way, started its life in transportation at 8 a.m., on Saturday, May 29, 1880, when the first train of the Ohio Central Railroad crossed over Raccoon Creek at Main Street.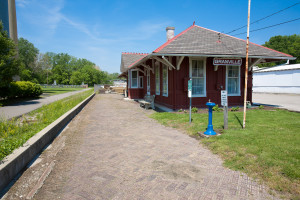 Within a week one could take the "first excursion over the O.C. Railroad…to attend the Festival and Concert" in Alexandria. The cost of this celebratory trip was 40 cents.
In November 1880, The Granville Times would report that the Granville "depot is finished at last…and is neat and commodious enough for common travel."
In addition to transportation, the railroad provided timely delivery of mail with, by February 1, 1881, "two mails a day via the Ohio Central."
The railroad was quite a hit with local residents, with the editor of The Granville Times reporting in the March 11, 1881, issue that "on last Friday we had the pleasure of a ride over the O. C. Railroad to Columbus and return, and were agreeably surprised to find the road in such good condition, the cars gliding along as smoothly as any road in this State. The passenger coaches on this road are among the finest we have ever seen, and the conductors and employees are gentlemen with whom you can travel without being treated to rude and uncivil answers to questions that the oldest traveler can't help asking."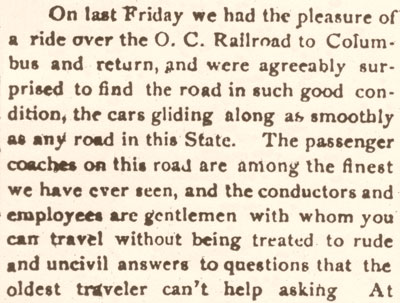 While the railroad served the village well for many years its usefulness drew to a close in the 1970s. The Thomas J. Evans Foundation acquired the old railway right-of-way and by the autumn of 1984 a bike path was available which ran from Alexandria to Newark.
Since that time the path has been connected to a number of other bike paths through a good portion of Licking County. Due to the efforts of Granville resident Jim Riddel, the Licking County path network also incorporates a number of historically old bridges which Mr. Riddel has saved from destruction and moved to the county.
The railway originally provided essential materials, transportation, and communication for Granville residents. Today the path is used for both walking and bicycling, and most days it provides pleasant views of both scenary and wildlife; thus through exercise and natural beauty the path continues to provide elements essential to the Granville quality of life.
Information for this article came from The Granville Times, William T. Utter's book Granville: The Story of an Ohio Village, The Granville Historical Society's three volume set Granville, Ohio: A Study in Continuity and Change, and Horace King's Granville-Massachusetts to Ohio.